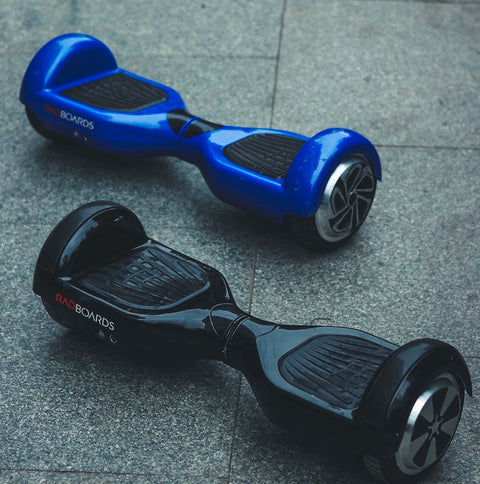 How to Ride a Hoverboard: A Step-by-Step Guide
Riding a hoverboard can be a fun and exhilarating experience. Hoverboards are now the most popular accessory or mode of self-transportation. Some call it a Segway Board, while others call it a self-balancing electric scooter. To keep things simple, we call it a hoverboard.
Hoverboards are regarded hip because they are more utilitarian than a traditional skateboard, which requires human propulsion. Battery-powered hoverboards are significantly easier to use and ride smoothly on a variety of terrains. What greater incentive do you need to possess a hoverboard or purchase one online? Radboards has their best version of hoverboards list.
Hoverboard Models - Radboards 
While shopping for hoverboards online, we're sure you've come across a variety of models. Aside from the pricing, you should consider if the hoverboard has Bluetooth speakers and LED lighting, whether it has self-balancing functions, and whether it has off-roading capabilities. If you're searching to buy a hoverboard online, Radboards features the greatest hoverboards in India, the Classic 6.5 and Rover Off-Roader.
Classic 6.5: If you want to buy a hoverboard online that is both cost-effective and reasonable, the Classic 6.5 is the most cost-effective and lowest-priced hoverboard we have. With a maximum range of 10 kilometer's on a single 2-hour charge, a variety of color's and styles, and being a hoverboard with Bluetooth speakers and brilliant LED lights, it will undoubtedly turn heads wherever you go. The basic 6.5 hoverboard is appropriate for both children and adults.
Rover Off-Roader: The Rover Off-Roader Chrome Edition is designed to push limits; its design, technology, and build quality make it ideal for all of your off-roading excursions.
However, it is important to follow some basic safety guidelines to avoid accidents and injuries.
Here is a step-by-step guide on how to ride a hoverboard:
Step 1: Safety First Always wear appropriate safety gear such as a helmet, elbow and knee pads, and wrist guards. Make sure to also wear closed-toe shoes with good traction.
Step 2: Check Your Hoverboard Check the hoverboard to make sure it is in good condition, and the battery is charged. Look for any visible damage, and ensure the tires are inflated to the recommended pressure.
Step 3: Mount the Hoverboard Place the hoverboard on a flat surface and turn it on. Step on one side of the hoverboard with one foot, and then step onto the other side with your other foot. Keep your feet shoulder-width apart and maintain your balance.
Step 4: Move Forward Lean forward slightly to move forward. To turn, shift your weight to one side or the other. To stop, simply lean back slightly.
Step 5: Practice riding the hoverboard in a safe and open area, such as a flat and clear parking lot. Start by moving slowly and gradually increase your speed as you feel more comfortable.
Step 6: Step Off the Hoverboard to step off the hoverboard, slowly step off with one foot first, and then the other. Make sure the hoverboard is completely still before dismounting.
Step 7: Be Mindful of Your Surroundings Always be aware of your surroundings when riding a hoverboard. Avoid uneven terrain, obstacles, and people.
Remember to ride safely and responsibly, and enjoy the fun and freedom of riding a hoverboard!