Hoverboard Service and Repair Center
If you have been looking for hoverboard repair services, you've come to the right place. If your board hasn't been turning on or if it's not turning off, needs a battery replacement, and your hoverboard just doesn't respond to you how you want it to, then you can just send it to us or drop by our service center.

Radboards is the leading and the only available Hoverboard service and repair center in South India. We provide full service and maintenance support for all our products, as well as hoverboards and self-balancing scooters of other brands. Being the only hoverboard service center in Southern India, we like to boast that we are the best in hoverboard servicing in the country.

Our team of technicians provides their full support when it comes to hoverboard repairs and maintenance. Radboards not only fix electric scooters and hoverboards of all brands, but we also have a massive inventory of required spare parts. This helps us guarantee expert services and repairs within a short time since we have everything at our disposal.

Our trained staff and friendly team will guide you through the whole process of your hoverboard repair. All you have to do is drop by Radboards service center or give us a call. Radboards offers a pickup and drops service from any part of the country, a hoverboard service that is made easy for you. It doesn't matter what brand of hoverboard you own. We service it all; our technicians and engineers are geeks in this field and have a lot of fun developing and repairing this tech.

All takes are just 2-3 days maximum for us to service and repair your hoverboard and send it back to you. Radboards takes a lot of pride when it comes to our customer service and satisfaction. We work with genuine OEM parts to give you a quality service and hoverboard repair, so you can have the most fun out of your hoverboard without any defects and deliver the best performance.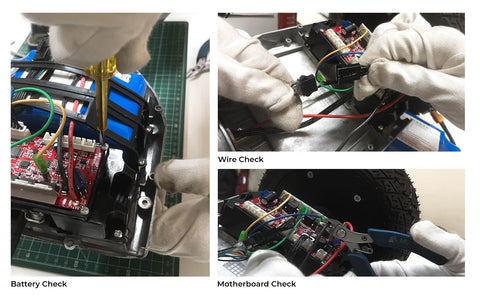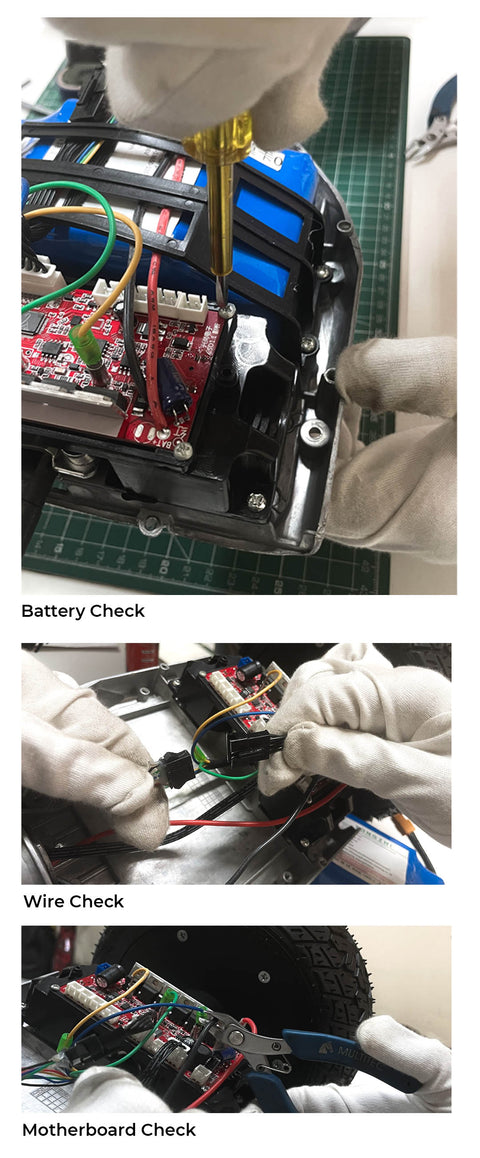 Kick Scooter Repair and Services
Apart from Hoverboards, we also work on Kickscooters of all brands and companies. Our services center at Radboards is well equipped, and our technicians can also work on various electric modules like the control boards and battery management systems.

We stock a selection of replacement parts for electric kick scooters of other brands, so you don't have to look for parts for your Electric Kick Scooter repairs and service. So, if it is broken, send it to us or bring it down to the service center, don't just leave it in your storage or your garage to collect dust.
Our electric kick scooter services will let you put your kick scooter back on the road so that you can utilize it for the reasons you got it in the first place. It is essential to ride your electric kick scooter properly and safely. If you feel the need to get your Kickscooter repaired and you notice some faults, do not avoid it and send it to us if you are not able to visit us. We offer pickup and drop services for your electric kick scooter service and repair.

All you have to do is give us a call, and we will schedule it according to your availability. Just give us a call and sit back and relax while we collect your Kickscooter for service and return it to you within 2-3 days.
Whether you require a battery replacement, your accelerator or brakes don't work, or you've damaged the body of your electric kick scooter, we are here to help you out. Our expert technicians use the best quality and original components for repairs and services, ensuring the best performance from your kick scooter once it is repaired