Classic 6.5 Hoverboard Rental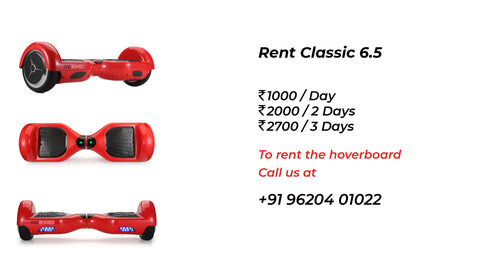 About Classic 6.5
Being Rad has never been this easy!

The Classic 6.5 gives you that smooth ride that is fun and pleasant. It comes with built-in BlueTooth speakers for you to enjoy your favorite tunes, and have your own personal jam going on! Weighs just about 7-8kg and lets you scale 15-degree slopes with ease.
Perfect for all kinds of riders and supports a maximum weight of 100Kgs ensuring safety

 
and durability. Wide anti-slip foot pads with great traction for a stable and confident riding experience even on slopes.
 Whether a beginner or a skilled rider, the auto-balancing system levels itself on the ground and makes it easy for One Step Mounting. A powerful lithium-ion battery gives you quick charging and a longer riding time. For all you night riders the board comes with a powerful LED light that gives you maximum visibility for your safety. 
| | |
| --- | --- |
| Charging Time | 120 Mins |
| Gradability | 15 Degree |
| Motor | 2 X 300 Hub Motor |
| Range | 8-10 km/charge |
| Top Speed | 15 km/hr |
| Weight Capacity | 100 kgs |
| Wheel Size | 6.5 Inch |
| Battery | Rechargeable Li-Ion Battery (36V - 4400mAh) |