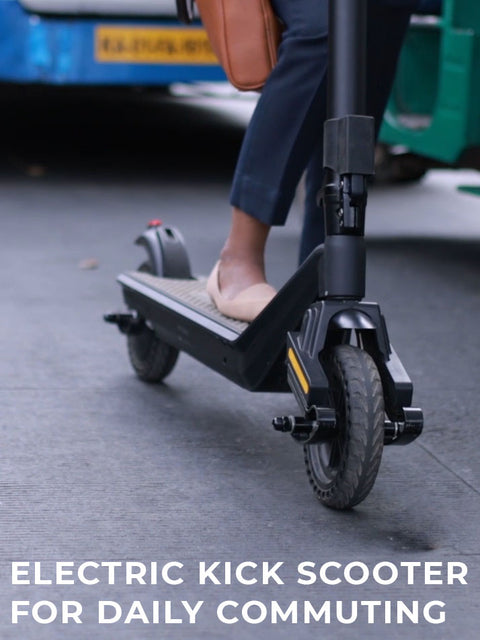 Electric Kick Scooter for Daily Commuting
I'm sure we can all agree that commuting to and from work or school is one of the most time-consuming parts of one's daily routine and finding the easiest option of transportation that works best for you can be nerve-wracking on its own. Travelling by public transport or a fuel-based personal vehicle are popular alternatives, however even these have their own drawbacks.
In the past few years, a third option has been gaining popularity and for good reason - electric kick scooters. Not too long ago, these had the reputation of being a kid's toy. Now they can be seen all the time on daily commutes. And not just for adrenaline junkies and thrill seekers but for students and office-goers too.
So, let's understand how an electric scooter is perfect for you!
Forget your worries about fuel prices.
With an electric kick scooter, you won't have to stand in long queues at the petrol station or constantly refuel your vehicle. 
How?
With Radboards electric kick scooters like the V1 and V2, you can recharge the removable lithium-ion battery at the convenience of your home. The advanced technology ensures a full charge in 3 hours, good enough for 2 days of commuting.

Train or Bus Schedules
You don't have to worry about missing your bus or train nor do you have to wait for your stop to come by because there's only one stop while riding an e-kick scooter : your destination.
Portability
Most electric kick scooters like the Radboards Shockwave V2 can be folded and carried around making it very convenient to store. It's even small and lightweight enough to bring into the office if you're headed to work.
Safety
While e-skateboards and unicycles look fun, the learning curve for a scooter is definitely shorter and the handlebar and suspension play a key role in providing more stability on rougher terrain. An added benefit is that you can travel a fair distance and even go uphill on the scooter without even breaking a sweat.
There are even benefits for the community in owning an electric kick scooter:
One less car on the road during rush hours

Minimal sidewalk clutter

More responsible riders
As you research, it's easy to get lost comparing features and specifications. Our advice would be to focus on the distance and terrain you have to travel and how portable you'd like the scooter to be.
If you're traveling longer distances, over potholed or poorly paved roads, or up steep hills, you may want to consider scooters with:
Larger capacity batteries, which enable more range between charges

Higher wattage motors or dual motors, which enable a scooter to climb higher-grade hills

Suspension to ensure a safe and smooth ride over rougher terrain
However, be aware that these types of performance-enhancing features typically increase both the price and the weight/bulk of a scooter.
All in all, the electric kick scooter is definitely one of the most efficient - not to mention coolest - ways to get around the city