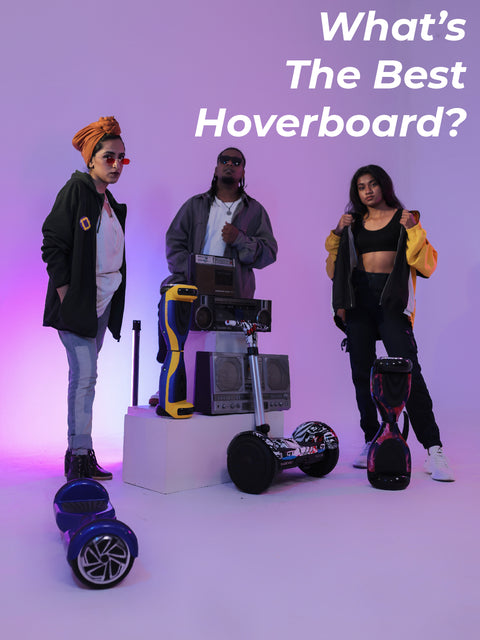 What The Best Hoverboard?
 Know your Ride
Whether you are purchasing a hoverboard for the first time or want to upgrade to a newer model, the two most imperative factors for you to determine are the rider's age and weight. If you want a hoverboard for your child, then it is recommended that you look for Classic 6.5' Hoverboard with a low maximum speed and easy to carry and use design.
 On the other hand, if you are willing to go for something with a little more power for yourself, then go for the Off-roader. 
It would be best if you avoid the cheapest hoverboards in the market. Not only are they made from inferior materials, but they also do not have a safe build, which is risky for your safety. Remember, you would trade money for your safety while choosing a cheap hoverboard.
 The boards at RADBOARDS are all field tested and come with quality build and sleek designs making it an ideal brand for all your hoverboarding needs. If you like to ride your board on rough terrain, opting for our Rover Off-Roader Hoverboard would be ideal.
This particular RADBOARD comes equipped with premium quality tires that provide an excellent grip irrespective of the terrain you ride on. Therefore, if you are an off-road rider, you won't have a problem riding your board on dirt, soil, or gravel which might be something you might have to deal with often considering Indian roads.
Build Quality
Before purchasing any self-balancing scooter, it is imperative for you to check the material from which the hoverboard is made. All the best brands of hoverboard offer a premium build quality for their customers, which is why they are tagged at a higher price point.
The best-in-class electric hoverboards chassis are generally built from superior-grade plastic that screams premium from every angle. The footboards have rubber padding with texture to provide better grip and tread.
The best brands of hoverboards also lay emphasis on manufacturing premium-grade, solid rubber wheels that provide greater traction while riding the board on any terrain. All the above mentioned qualities are seen with the hoverboards at RADBOARDS
Speed and Range
It is needless to say how cool it looks to dash down the lane on your hoverboard, but then you should also pay heed to your safety. Some of the brands the manufacture fast hoverboards offer a high-speed limit of around 10 kmph.
On the other hand, the kids' hoverboards are specifically designed to have a lower speed limit of around 3 kmph to 4 kmph. The max speed in these hoverboards is intentionally kept low to ensure the safety of the children.
While riding a hoverboard for the first time, it is recommended that you use the default training mode as you work up from a slow to high speed. As you get comfortable riding the board after days of practice, you can gear up the hoverboard speed to a whopping 10 kmph!
As far as the range of a fast hoverboard is concerned, there is a myriad of factors that need to be considered, making it difficult to measure. Depending on the weight of the rider, terrain, incline, and speed, some of the fastest hoverboards offer up to a 8-10 km range.
Battery Quality
Although all state-of-the-art hoverboards boast of comparatively longer battery life, you can expect to get about an hour of juice from any mid-range hoverboard as well. One hour of battery life is decent enough to give you an uninterrupted performance whether you cruise through the park or take your hoverboard on a joyride around your neighborhood. Every RADBOARDS hoverboard battery is tested meticulously to ensure the Lithium-ion battery's safety and efficiency. 
A word of caution: You must also be aware of the fact that continuous stops and starts might shorten the life of your hoverboard's battery.
Portability
Hoverboards are portable personal vehicles that weigh somewhere between 7.2 kgs to 12 kgs. We at RADBOARDS provide a portable hoverboard carrying bag that snuggly fits the self-balancing scooter, with enough space to add some small accessories.
 Carrying your hoverboard around for brief periods doesn't seem much of a task, but it might feel like a burden for a longer distance. You also need to carry the charger with your portable hoverboard if you plan to use it outdoors and run it for a longer period of time.