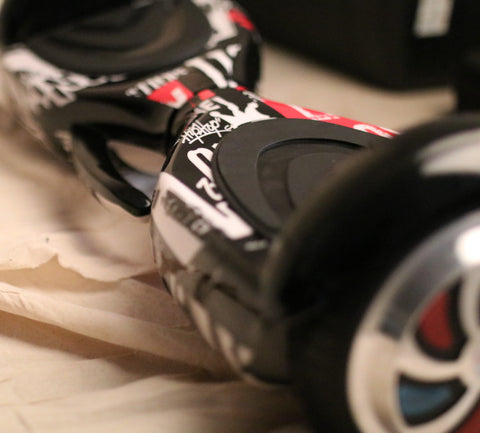 The Ultimate Guide to Choosing the Perfect Hoverboard
Hoverboards are a fun and exciting way to get around. They offer a unique riding experience and are popular with both kids and adults. However, with so many hoverboards on the market, knowing which one to choose can be difficult. Here's a guide to help you choose the best hoverboard:
Safety First:
When it comes to hoverboards, safety should always be your first priority. Look for a hoverboard that is UL certified, which means it has been tested for safety by Underwriters Laboratories. A UL certification ensures that the hoverboard has undergone rigorous testing for electrical and fire safety.
Wheel Size:
The size of the wheels can affect the stability and maneuverability of the hoverboard. Smaller wheels are better for indoor use and are more maneuverable, while larger wheels are better for outdoor use and can handle rougher terrain. Choose the wheel size that is best suited for your needs.
Weight limit:
Most hoverboards have weight limits that range from 100 to 120 kg. Make sure to choose a hoverboard that can support your weight. If you plan on sharing your hoverboard with family and friends, choose a model with a higher weight limit.
Battery life:
Battery life is an important consideration when choosing a hoverboard. Most hoverboards have a range of 10-15 miles on a single charge. If you plan on using your hoverboard for long distances, choose a model with a longer battery life.
Charging time:
Charging time is another important consideration. Most hoverboards take 2-3 hours to fully charge. If you plan on using your hoverboard frequently, choose a model with a shorter charging time.
Speed:
The top speed of a hoverboard is typically around 10-12 mph. Choose a model with a speed that is appropriate for your skill level and intended use.
Bluetooth connectivity: Some hoverboards come with Bluetooth connectivity, allowing you to connect your phone or other device and play music through the built-in speakers. If this is important to you, look for a model with Bluetooth connectivity.
Price:
Hoverboards can range in price from under 10,000Rs to over 50,000 rupees. Decide on a budget and look for a model that fits within your price range.
Survey review:
Before making a purchase, read customer reviews to get a better idea of the quality and performance of the hoverboard. Look for models with high ratings and positive reviews.
Choosing the perfect hoverboard is all about finding the right balance between safety, performance, and price. By considering the factors listed above, you can find a hoverboard that suits your needs and provides a fun and exciting ride. Always wear a helmet and protective gear when riding your hoverboard, and follow all safety instructions.
By considering these factors, you can choose the perfect hoverboard for your needs and enjoy a fun and safe riding experience.
While there have been many advancements in technology, the perfect hoverboard may still be a work in progress. However, here are some features that could make for an ideal hoverboard: 
Stability: A perfect hoverboard should be able to balance itself and provide a stable ride, even on rough terrain.
Speed: A good hoverboard should be able to reach a reasonable speed, allowing for a fun and efficient mode of transportation.
Range: The perfect hoverboard should have a long battery life and be able to travel a significant distance on a single charge.
Safety: Safety features such as automatic shut off in case of a fall or overcharging, and durable materials that can withstand crashes should be present.
Easy to control: The hoverboard should be easy to operate, and users should be able to control it with minimal effort and training.
Compact and lightweight: The hoverboard should be easy to carry around and store when not in use.
Affordable: The perfect hoverboard should be reasonably priced, making it accessible to a wide range of users.
Versatility: The hoverboard should be able to navigate different terrains and environments, including hills, grass, and uneven surfaces.
Smart features: Optional smart features such as GPS tracking, Bluetooth connectivity, and mobile app compatibility can enhance the user experience.
Sustainability: The hoverboard should be made using environmentally-friendly materials and be designed to last for a long time.
While there may not be a hoverboard that ticks all these boxes yet, advancements in technology may make it possible in the future.
Key Features
To keep the rider steady and balanced while riding, most hoverboards include sophisticated sensors and gyroscopes. This lowers the danger of falling and makes it simpler to manage the hoverboard.
LED lights that are built onto the hoverboard make them more visible in low light and also give the ride a fun element.
A standard hoverboard has a powerful battery that may run for hours without needing to be recharged.
Hoverboards have high-speed motors that can travel up to 10 km/h, which makes them perfect for swiftly traveling small distances. 
The hoverboard features an easy-to-use control panel that allows you to control speed, acceleration, and direction with ease.
The hoverboard is certified to meet the highest safety standards, so you can feel confident while riding.
Design
Hoverboards are highly practical since they are simple to use, store, and travel. They are the perfect option for folks who live in flats or have a little amount of storage space because they take up very little room.
Riding a hoverboard is a lot of fun, and you can use it for a number of different things, including getting around town, exploring, or simply having fun.
Hoverboards are secure and simple to ride because of their sophisticated self-balancing technology and durable design. Additionally, they have safety features like LED lighting and non-slip foot pads that serve to lower the likelihood of accidents.
In comparison to vehicles and other forms of transportation, hoverboards are more environmentally friendly because they run on rechargeable batteries and don't emit any pollution.
The Radboards hoverboard is the perfect combination of style, power, and safety. 
The Hoverboard provides a comfortable, enjoyable, and smooth ride. It has Bluetooth speakers integrated into it so you can enjoy your favorite music and jam out at your own pace. Buying the best hoverboard in India weighs about 7-8kg and makes it simple to climb slopes of 15 degrees.
It is ideal for all riders and supports up to 80 kg, assuring its longevity and safety. Wide, highly traction-enhancing anti-slip foot pads provide sturdy, secure riding even on inclines.
You can ride longer and receive speedy recharge with a powerful lithium-ion battery. The board has a strong LED light that offers you optimal visibility for your safety if you choose to ride at night.
Description:
| | |
| --- | --- |
| Brand | Radboards |
| Colour | Black |
| Age Range | both kids and adults |
| Maximum Speed | 15 Kilometers per Hour |
| Item Weight | 8 Kilograms |
| Charging Time | 120 Mints |
| Gradeability | 15 Degree |
| Motor | 2 X 300 Hub Motor |
| Range | 8-10 km/charge |
| Top Speed | 15 km/hr |
| Weight Capacity | 80kgs |
| Wheel Size | 6.5 Inch |
| Battery | Rechargeable Li-Ion Battery (36V - 4400mAh) |
The Hoverboards provides a comfortable, enjoyable, and smooth ride is the ideal option for quick, discreet outings for leisure and regular commuting. Thanks to its Li-Ion Battery (36V - 4400mAh) and 2 X 300 Hub Motor, the Classic 6.5 can climb up to a 15° grade.
If you've been seeking inexpensive hoverboards online or trying to purchase hoverboards online in India you can stop your quest now. Radboards delivers the greatest hoverboards at the most economical pricing.
We employ state-of-the-art electronics for our hoverboards and electric scooters for rapid acceleration, reversing, and remarkable maneuverability. Simply flow with ease to your destination naturally.